BEST OF: DARKFEST 2017
Der Olymp des Slopestyles hat in Südafrika getagt: The DarkFEST. Aber wer hat denn eigentlich gewonnen?
Bei der FEST Serie geht es ja nicht unbedingt ums Gewinnen, sondern vornehmlich darum, mit Freunden eine gute Zeit zu haben, abartig riesige Jumps zu bauen und dabei für die Zuschauer und die Kameras ein paar fette Tricks rauszuhauen. Das DarkFEST stieg in Südafrika auf den Pure Darkness Jumps, die von Sam Reynolds, Nico Vink und Clemens Kaudela wieder zum Leben erweckt wurden. Dazu kamen noch die fast 20 Meter hohe Startrampe, 18 Meter weite Gaps und ein 10 Meter Hoher Kicker, der einen noch mal fast 8 Meter in die Luft schießt! Neben der Strecke war natürlich eine dicke Party angesagt – eine absolute Win-Win-Situation.
Apropos Win-Win, wer hat denn nun eigentlich gewonnen? Also vom olympischen Gedanken mal abgesehen? Hier sind sie, die Besten der Besten:
Best Trick: Adolf Silva - Double Flip
Best Line: Andreu Lacondeguy
Best Whip: Kurt Sorge
Biggest Slam: Adolf Silva - Tripple Flip Attempt
Dark King: Clemens "C-Dawg" Kaudela - for killing the course build, riding and parties
Ein absolutes Monster-Event, das Laune auf die nächsten Stopps der FEST-Serie und alle anderen Slopestyle-Events macht!
Ähnliche Artikel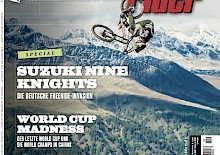 Ausgabe 199 – langsam wird's ernst! Ab sofort erhältlich.
An dem Wochenende nach Ostern findet zum 10. mal das FMB World Tour Silver ...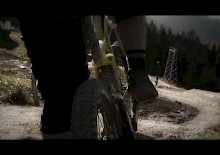 Hier seht ihr A Devils Way. Der MTB Image Film ber die MTB Region ...