Logan Peat "Backwoods" Interview
SRAM Präsentiert das Logan Peat "The Backwoods" Interview
Logan Peat hat ein bewegtes Jahr hinter sich, seine Top Performance bei allen drei Crankworx Slopestyle Events hat dem 25 jährigen Bike Talent den 5. Platz in der Gesamtwertung des Crankworx Slopestyle Championships eingebracht. Zwischen den Events hat er die Zeit damit verbracht an im Coast Gravity Park seine eigenen Traum Jumpline zu schaufeln und dort auch das bald erscheinende Video "The Backwoods" zu drehen. Einen kurzen Einblick was wir von "The Backwoods" zu erwarten haben, gibt Euch der Teaser Clip oben! Als nächstes macht sich Logan auf nach Utah / USA, wo er bei der legendären Red Bull Rampage 2015 teilnehmen wird.
Jo Parkin hat sich für SRAM ein paar Tage vor dem Red Bull Joyride mit Logan Peat zusammen gesetzt für das folgende Interview um mit ihm über das filmen für "The Backwoods", Contests und sein Jahr im allgemeinen zu unterhalten.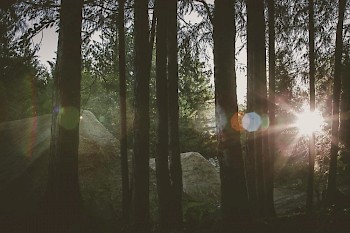 Which came first, the idea for jumps or the idea for a video?
LP — It was definitely based on building something to ride — and film. I've always wanted a set of jumps like what I built and, obviously, showcasing that to everyone — making a video — is part of the fun. It's awesome, working with Nic [Genovese]; he's such a good friend of mine. He's the one I choose to work with, and I know he can show what I do the best.
How gnarly was the build?
LP — The build: insane. I had an idea of what I wanted to do, and my vision was a lot smaller than what it ended up being. I don't know if you know about machinery, but we got a 270 — that's a big, big machine. As soon as that rolled in, I just kept telling them to keep stacking the dirt, keep stacking dirt. Bigger is better for landings, you know, you've got more landing to fall on.
But once the machine left was the big surprise — you go stand by those piles with a rake, and you realize you've got your hands full. But the CGP [Coast Gravity Park] staff — I hired a bunch of those guys — and we just put our heads down for a couple of weeks, and it all came together pretty good.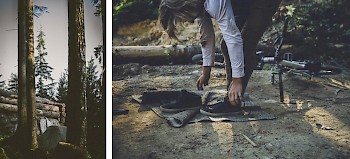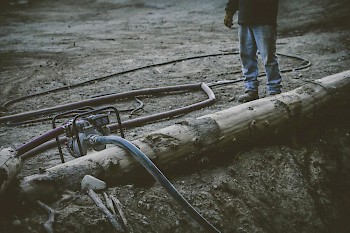 And your dad helped....
LP — Yeah, Dave the Slave. He acquired the name. He's not as skilled with the packing and, you know, fine tuning stuff, so he'd be getting the grunt work. He killed it — kept the team morale going. He was working harder than all the young kids, you know, and whipping them into shape.
It sounds like your parents have been supportive of your riding.
LP — My parents are so supportive of me. Like, just growing up in Ontario, they actually bought an empty lot so I could build jumps — probably six years ago, now. That really kick-started me, being able to build. They're so supportive, like helping out financially when the sponsors don't come to the table. And my dad, he's digging and my mom's bringing lunch — it's just awesome.
And Darren Hemstreet was the master on the machine?
LP — Yeah. Such a cool guy. He's kind of the owner of the bike park. And he's so cool — he just kind of wants us to live the dream. He's got the property, he's got the skills and the machines, and he's just so happy to let us do what we want, and kind of fuel that fire.
Talk about filming versus competition.
LP — It's pretty similar, the amount of pressure you put on yourself. You're just as scared. You put all the pressure on yourself, you know what you can do and you want to do the best you can. It's a little better, because, you know, you have control — if it's windy, you come back tomorrow.
With the events, it's tough, because you've got to go, and you've got to do it all in two tries. Filming's great, because you have as many tries as you want.
How long were you guys filming?
LP — Filming took a while…I don't know the exact number of days, but the filmers came on three different occasions. It was tough, between all of our schedules. I had some contests, had to go to Europe, a couple of falls along the way, which postponed things. It was a long time, but I am super happy with the finished product. It's awesome.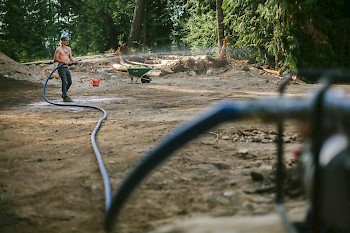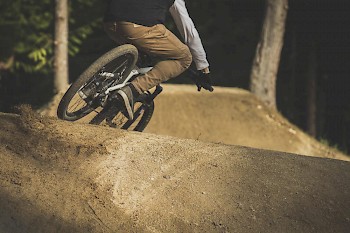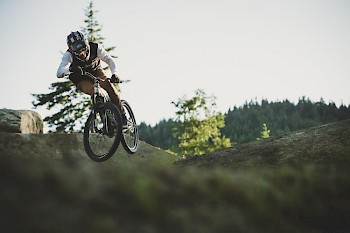 And you have a contest coming up on your jumps — what's the format?
LP — It's an interesting format. I love going to these big events like Crankworx, because it's so fun with all your friends. You meet up, you ride a cool course, but there is a huge amount of pressure on everyone to do well. You know the crowds are watching.
So I just wanted to get that group of riders together on a cool course like Crankworx and just have fun for once. Ride around, have Nic film it, and just showcase the fun for everyone through video.
It's going to be super low key. There's going to be a riders' choice award, which is kind of for who's been killing it. And we're going to have a Best Trick and a Best Style, so it's just going to be decided amongst the riders. There's no money, just some cool prizes I've picked up. It's all about good times.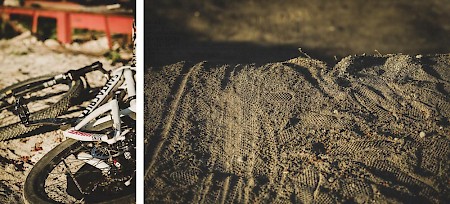 What's next for you after the Backwoods Jam?
LP — After the Jam, I'm going to put the slope bike down for a bit and jump on the downhill bike — focus on Rampage. It'll be a nice change of pace to wake up in the morning and go shuttling instead of jumping into a mulch pit. I'm really looking forward to that.
Rampage: Have you been out there yet to look at potential lines or anything?
LP — I haven't seen the new site. I went the past two years, before last year, and helped Brandon [Semenuk] build, so I'm kind of used to the dirt. And I've done a little riding out there. But I haven't seen the new course, so I'm definitely a little bit nervous. But I'm just going to go with the mindset of just having a goal, like to do a certain trick off a drop or something — just sort of don't worry about the big event for my first year.
And what are your plans after Rampage is in the books?
LP — I'd really like to stay on my bike and get ready for next year, 'cause I feel like I'm very close to being able to do a lot better at these events, and I just know that a couple more tricks and a little more practice will get me there. So I just gotta stay focused.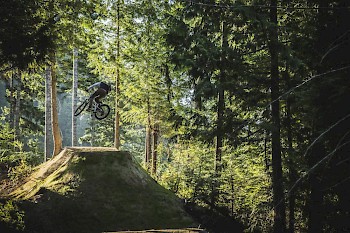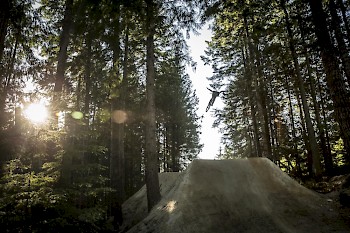 Yeah, it feels like you're right on the edge of doing something really big.
LP — Exactly. You do your run and you just know that, like, had I done this…that'd be that extra little bit to bump you up. But you know you have to practice that stuff and be comfortable — you don't want to get injured and set yourself back. It's basically all about the hard work in practice to get you dialed.
Your focus at these contests is clearly evident, but you also seem very relaxed — you never seem to get whipped into any kind of nervous frenzy. Do you have an awesome poker face or is it simply your level of confidence?
LP — It goes back to that practice at home. I practice so hard, and when I get to these events, I just come with the mindset that I know what I'm doing — I know how to do these tricks. I stay confident and I just try and have as much fun with the guys as I can. I almost joke around and stay happy to avoid going into that mental-stress zone
Fotos: Adrian Marcoux & Nic Genovese
Gepostet am 29.09.2015 von Maximilian Topp / Interview: Joe Parkin |