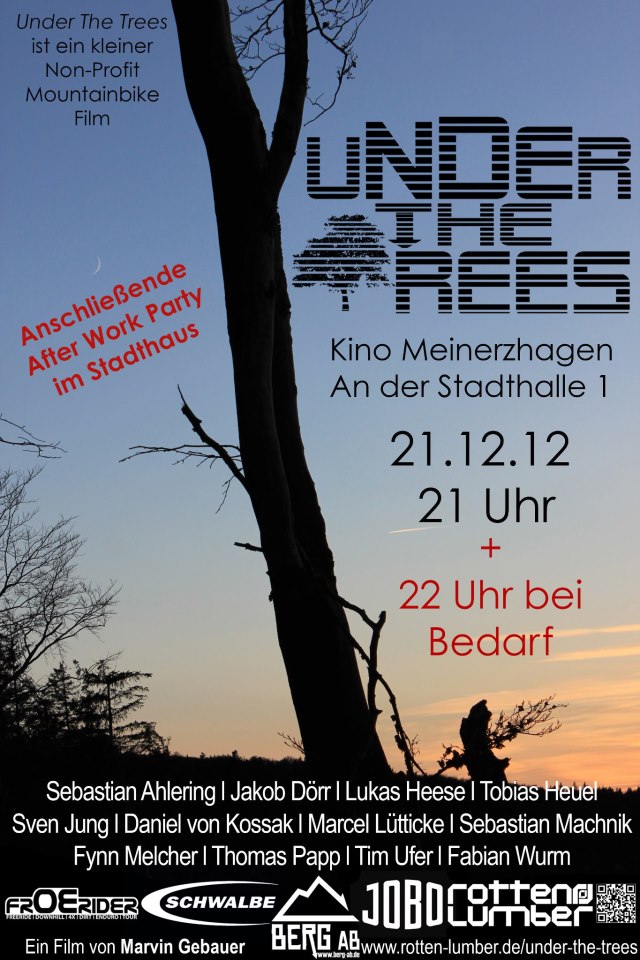 Nicht verpassen!! Heute Abend findet in Meinerzhagen die "Under the Trees" Filmpremiere statt.
Hier alle nötigen Infos zu der Veranstaltung:
"Am 21.12.2012 ist es endlich soweit und wir veranstalten die Premiere von unserem Mountainbike Film im Kino Meinerzhagen.

Ab 21 Uhr ist Einlass
21.15-21.45 Film

Wenn mehr als 170 Leute kommen, zeigen wir um 22 Uhr den Film noch mal.

Ihr seid alle eingeladen, sagt aber bitte zu damit wir den Überblick behalten können.

Einen Trailer und weitere Informationen zum Film findet ihr auf www.rotten-lumber.de/under-the-trees

Der gesamte Film wird ca. 30 Minuten lang sein.


Vielen Dank an

Berg-Ab
www.berg-ab.de

Schwalbe
www.schwalbe.de

Jobo Actioncams
www.jobo.de

Froerider
www.froerider.de


Vielen Dank für die Musik an

Brummer
http://www.facebook.com/BrummerOFFICIAL

The Colts
http://www.facebook.com/thecoltsoe

Crunch Mode
http://www.facebook.com/pages/Crunch-Mode/127440167344008

Freebirds

Royal Child
http://www.facebook.com/royalchildmusic

The Straw Hats
http://www.facebook.com/strawhats.olpe


www.facebook.de/rottenlumber"