GT Factory Racing Team Update
Das GT Factory Racing Team ist grade auf dem Weg in ihr erstes Trainingscamp in Del Mar, Californien. Atherton Racing wird zudem in 2015 seine Partnerschaft mit GT Bicycles weiter führen und ist stolz drei neue Team Zugänge vorzustellen. Die Schweizer Firma IXS wird das Team einkleiden, Helme werden sie von BELL Helmets tragen und der Autohersteller JEEP ist der dritte neue Sponsor im Boot.
Bei den Bikes bleibt mit Shimano, Continental, Pro und Fox soweit alles beim alten. Bei dem Downhill Team werden die Felgen in diesem Jahr von Stan`s Notubes kommen und as Enduro Team wird auf XTR Laufrädern rollen.
Die Team Aufstellung wird sich für 2015 leicht verändern, da Marc Beaumont seinen Hut nehmen wird.
Alles Infos im Detail in der Offiziellen Pressemitteilung:
 "We are delighted to head into 2015 with the same brilliant bike and component sponsors as well as our long term supporters Red Bull and Silverline tools who will continue to be an integral part of our team. Along with GT, Shimano, Continental and Fox we will continue our successful associations with Pro and Stan's No Tubes and off the bike GoPro, Muc-off, Oakley and SRM will remain a valued part of the set-up.
We're delighted with Gee's World Championships win this year but I'm 100% certain that we have even better things to come in 2015 and I'm confident with our excellent support team and all of our sponsors behind us, we're going to deliver".
Reigning World Champion Gee Atherton said, "I honestly believe that we have the best team in the world. When I get to the start-gate I know exactly how much expertise and dedication it has taken to get me there  - mechanics, support team and sponsors all pulling together. I can't wait to welcome Jeep, iXS and Bell to the family.
A lingering illness picked up in South Africa made 2014 a difficult year for Rachel Atherton, though she still posted glittering results by anybody else's standards (a UK National Championship, two World Cup wins, 2nd in the World Cup Series Overall and 2nd by a cruel 0.08 seconds in the World Championships)
Rachel said " I am so motivated for 2015. 2014 was hard, really hard especially as I watched the other Women racers get stronger and faster but they'd better watch out for me in 2015 because I want those titles back!"
Taylor Vernon who won his first Junior World Cup at Windham, just 13 months after breaking his T7 vertebrae, he will race as an Elite for the first time.
For the Enduro team Dan Atherton is back to full racing fitness and is impatient to get started on the Enduro World Series 2015 where he will ride with 18 year old Martin Maes for the third consecutive season. Martin, who won a World Cup in Downhill this year at Fort William, Scotland will continue to race in the General Classification – despite his Junior status.
Dan Atherton said  "For me 2015 is going to be all about Enduro, all about racing with Martin and putting together a set of top-class results. I was involved in every stage of the Sanction's development and now I want to demonstrate exactly what I can do with it. Gee's right about the key role that sponsors play in our team, our partnerships are working collaborations with brands that we really believe in.
GT Factory Racing's new partners shared their thoughts on the new deal…
Jeep
"The Athertons are at the top of their game and embody much of what the Jeep brand signifies – adventure, determination and capability.
"We're incredibly excited about the opportunities that being an official Team Partner brings and sharing this with the Jeep community over the months ahead. This is a new era for the Jeep brand in the UK and we're thrilled that Atherton Racing is going to be part of this."
Damien Dally, Jeep Head of Brand
IXS
"iXS are a family owned company with racing in our blood so we are delighted to welcome Atherton Racing to our team. We are all extremely excited to work with such professional athletes, seeing them trust our products and enjoy riding in them makes us very proud and I personally believe that working together will allow us to reach even greater heights."
Pascal Haf, Brand Director
Bell
"We are thrilled to have the Atherton's back on Bell helmets.  Aside from the fact that they are great individuals, and a very fast team of riders, they also LOVE riding bikes.  And that's what we are about.  The thrill of the ride.  Gee has already been out in the San Diego hills wearing his Full 9.  Its good to know that the professionals are choosing Bell Helmets because of the quality products we make."
Scott Sharples, Bell Helmets
2015 Downhill Team
Gee Atherton, Men's Elite – World Champion, World Cup Ranking 5th
Rachel Atherton, Women's Elite  – World Champion 2013, World Cup Ranking 2nd
Taylor Vernon, Junior World Cup ranking 3rd
Enduro Team
Dan Atherton
Martin Maes – Junior World Champion 2013
Atherton Academy
Kade Edwards – Overall British Downhill Series Juvenile Champion
We will continue to support 15 year old Kade as he moves into the Youth category. Atherton Academy is our stepping stone programme to guide young talent through the initial stages of their race careers.
A brand new team strip will be launched at the end of March prior to the whole team racing at Crankworx, New Zealand.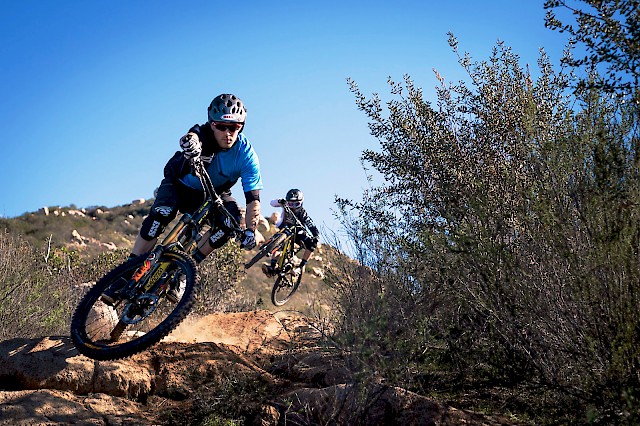 Gepostet am 16.01.2015 von Maximilian Topp |